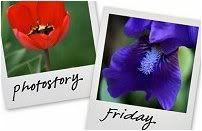 Hosted by Cecily and MamaGeek
The other day, Pat and I took the kids fishing over at the little lake by my dad's house. Dad meets us over there, tackle box and fold up chair in hand. I bring a blanket and some snacks for the kids.
I debate bringing my camera.
I have quite a few fishing pictures of the kids holding on to their poles and waiting for that unsuspecting fish to bite. But honestly, we hardly ever end up catching anything. We mostly go just to be outside and let the kids reel in whatever the hook happens to snag - sticks, leaves, weeds...
So I decide not to take the camera. I even decide to leave my "back up camera" (cell phone) in the car. That is how sure I am we aren't going to catch anything.
Ten minutes later, I am huffing and puffing, running back to the car as fast as I can (about 40 yards) so I can snap this picture with my phone -
To think I almost missed capturing the look on Abby's face when she and "Papa" held up that fish...
She even reeled it in all by herself! (Unfortunately, I missed that part while I was running to get my camera.) Daddy and "Papa" were very proud...and probably a little envious. I don't think either one of them have ever caught one that big!
We went again a few days later hoping that maybe Noah would catch one too.
Of course, this time I brought the camera.
***Today just so happens to be my dad's birthday. Happy Birthday, Papa! We love you!***
And speaking of fish, swim on over and check this out!