Once upon a Christmas time, long ago, a young man with a skater-style haircut beckoned a young woman whom he had recently taken on a first date to help him decorate a Christmas tree. The young woman happily obliged as she had a teensy weensy crush on this young man.
They arrived at his humble abode (an old "trailer" that he shared with two roommates) fully equipped with spray-on snow, cheap glass bulbs from the local Wal-Mart, a few strands of lights, and some blue tinsel that the young man managed to find in his mother's attic.
Since the tree was only three and half feet tall, the ingenious young man and his buddies devised a way to suspend the tree from the ceiling, therefore eliminating the need for a tree stand. Due to the miniature nature of the tree, there were plenty of lights left over to string around a bicycle rim that the young man (a manager of a bike shop) had previously hung on the wall (with a red light bulb in the middle to add an extra touch of tackiness.)
The young man and young woman were so pleased with their decorating abilities that they decided to pose for
their very first picture together
in front of the dangling, overly spray-painted Christmas tree...
...both of them
completely
unsuspecting of the fact that thirteen years later, they would have celebrated their twelfth wedding anniversary, have two beautiful children, and be decorating their thirteenth Christmas tree together.
(Here's hoping that this little tree makes it to Christmas day. Noah has already knocked it down
twice
.)
***Share your photos from Christmas past
here
OR
click there...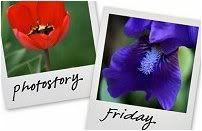 Hosted by Cecily and MamaGeek