A little Groundhog's Day drama for you...
Abby was so excited to watch the weather on February 2nd. Her teacher had been talking about Groundhog's Day at school the day before, they made a paper bag puppet, etc... so I told her that we'd be able to see the groundhog on TV the next day.
Well, I missed the morning news...
"Mama, when can we see if the groundhog sees his shadow?" was repeated about 15 times during the course of three hours.
"I'm sorry, babe. We'll have to wait until lunchtime. The weather will be on again at noon."
After MUCH anticipation, noon finally arrives!
Abby's eyes are glued to the TV as
Punxsutawney Phil
makes his annual squirming, flash-blinding appearance.(Poor groundhog.)
We hear the announcer say the groundhog has seen his shadow. Then the voice booms, "SIX MORE WEEKS OF WINTER!"
"NOOOOOOOOOOOOOOOOOOOOOOOOOOOOOOOOOOOO!!!" Abby
wails
. She's sobbing!
A little stunned by her extreme reaction, I'm trying not to laugh, although I feel like crying too. I am so not a winter person, especially if it's just cold with NO SNOW! (What's the fun in that?)
The kiddos trying to catch one of maybe fifteen snowflakes falling from the sky.
This is seriously about all we get around here.
She runs out of the room, still wailing, "Now there's six more DAYS of winter!"
Now
I'm laughing. Six more DAYS??? Don't I wish!!!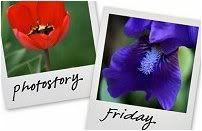 Hosted by Cecily and MamaGeek