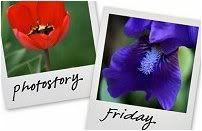 Hosted by Cecily and MamaGeek
After almost nine months of anticipation, my contributor's copy of A
Cup of Comfort for New Mothers
finally arrived!
Essay's name: Welcome Home
Delivery Date: March 4, 2009
Weight: @ 11 oz.
Length: 7.5 inches
(I know...a "book" announcement? A little cheesy, but just humor me.)
Our first photos...
(Disclaimer: Excitement over seeing your first story in print makes a person do crazy things...like letting your two and four year old use your digital camera.)
Noah took this one...
and this one...
Abby took a few too...
Then I remembered the camera has a timer so I could get one of ALL THREE of us...
Yes, we were a little camera happy. :)
To further celebrate this new arrival, I am giving away a copy of
A Cup of Comfort for New Mothers
. I am almost finished reading it, and I have to say, every essay I have read has made me laugh, smile, or get a little teary-eyed. I've really enjoyed it.
So you have until
Friday, March 20th
to leave a bit of
comfort
/advice you might share with a new mom, whether it's her first or her fourth!
I will randomly choose a number and announce the winner on Saturday, March 21st.
And speaking of new moms, CONGRATS to
Diary of a New Mom
! Mom2Miles is now Mom2Miles AND Riley! (Her personal essay is also featured in
A Cup of Comfort for New Mothers
. Talk about great timing - Riley arrived on the same day as our contributor's copies!)