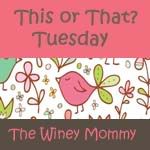 My bloggy pal, Chelle, is kicking off her very first
This or That? Tuesday
so I thought it would be fun to play along!
Simply copy and paste the scenario below and write out a post with your choice of
'This'
or
'That'
answer. Copy the button code into your post and then come back and link up on the linky
(over at Chelle's place)
! After you link up go and visit as many of the other link ups that you want--who knows, maybe you'll find a fabulous new blog to follow!
Here is this week's scenario:
You show up at a party of an acquaintance.
It's an evening party and you don't know very many people there. For whatever reason you decide to show up alone--and pray that your friends will indeed make it.
Would you rather show up under dressed or over dressed?
My answer:
I'm sure I'd be under dressed regardless. I don't have much in the way of party attire. The last evening party I went to was a Fairy Tale Ball with Abby which was so much fun. I actually bought a new dress for the semi-formal occasion, but it really wasn't all that fancy schmancy. I was counting on the matching tiaras that I bought for Abby and myself to dress it up a bit.
(Spring '08)
Of course, she was so adorable in her Cinderella dress and glass (glittery plastic) slippers, I wasn't too worried about anyone paying much attention to me.
She was certainly the
belle of the ball
.