Wow! I have some MAJOR catching up to do. Between the book signing, substitute teaching, celebrating Abby's birthday, getting ready for our move, and trying to maintain my sanity, the past two weeks have been a bit of whirlwind.
And I have the pictures to prove it!

So instead of doing one ridiculously long blog post, I'm going to break it down. After all, a picture is worth a thousand words, right?
Saturday, May 2nd - The big day! My table was set up right the front of the store. You couldn't miss me. :) I had a little Mother's day craft for the kids to do - tissue papers flowers, just the right size for a wrist corsage. The kids could also make cards for their moms. Quite a few people stopped by, and I signed/sold 15 books! Of course, most of those were purchased by family and friends...
Thanks for coming you guys! It meant the world to me.
********************************************************
5/15 - Since this has been more like a "Photostory" week, I thought I'd link this post. Feel free to check out PART 2 and PART 3 too!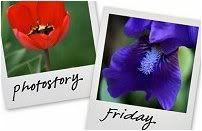 Hosted by Cecily and MamaGeek