My very first book signing for my essay "Welcome Home" (featured in none other than
A Cup of Comfort for New Mothers
is tomorrow at our local Barnes and Noble just in time for Mother's Day. The timing of it is pretty neat since it will be five years exactly from this coming Mother's Day that I brought Abby home from the hospital. In fact, that's where my Cup of Comfort story begins...
"So they're going to let us take her home now?"

I can still remember the look on his face and the angst in his voice when my husband asked me this question. We had just signed a pile of discharge papers and were preparing to leave the shelter of the maternity wing, where we had been guided through everything from breastfeeding to diaper changes.

"I guess so," I answered him with a nervous smile, as I gingerly placed the baby in her infant carrier and adjusted the straps to fit snugly around her. She looked so tiny in the giant car seat.

By hospital standards, we were ready to venture out into the cosmic world of parenthood on our own. We anxiously waited for an orderly to come in with a wheelchair and courteously push me out to the car, but after several minutes, there was still no one in sight. I finally assumed the wheelchair scenario was only something you see in the movies. Instead, my husband and I walked along the empty hallway and through the labor-and-delivery doors, infant seat securely in hand. Both excitement and apprehension followed us down the elevator and into the parking lot. I eased myself into the backseat as my husband carefully snapped our baby's carrier into its silver base. Then he proceeded to drive at least ten miles under the speed limit the entire way home. As brand new parents, it's safe to say we were feeling a bit under-qualified to take on the huge responsibility buckled in next to me.
Of course, if you want to read the rest (along with fifty other sincere, heartfelt, and humorous stories), you'll have to go on out and get
the book
. :)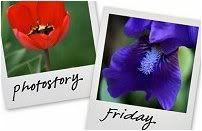 Hosted by Cecily and MamaGeek