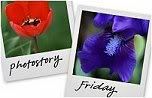 Hosted by Cecily and MamaGeek
A few nights ago as I was bringing groceries in from the car, I noticed a distinct humming sound that was growing louder and louder. A surprisingly familiar sound that I recognized from my childhood, growing up in North Little Rock, Arkansas, to be, what we called, the mosquito truck.
Sure enough, I saw the flashing lights in the distance and immediately headed inside to avoid being fogged with bug spray.
I guess bugs and mosquitoes are pretty prevalent down in these parts.
Must be a southern thing. :)