I know. I know.
It's FALL.
I have been in denial.
I'm just not ready to let summer go yet.
Mostly because I had great expectations for this past summer (aka - wanted to spend a week at the beach) and they just didn't materialize.
But I have to let it go. (It's October for heaven's sake. I had to turn my heater on this morning...so depressing.)
Time to switch gears and stop moping.
Time to focus on all the fun FALL festivities.
Maybe take a day trip to the apple orchard like last year...
Awwww...isn't she a cutie? We had such a great time. Abby still talks about it. And I'm sure that Noah will enjoy it even more this year. (I'm sure I'll be chasing him all over the orchard.)
Okay...I'm feeling better. Maybe even a little excited...especially if I can try one of those apple cider doughnuts. They smelled SOOOO good when we were there last year, but the line was so long. Here's hoping! :)
Happy Fall!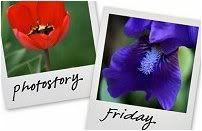 Hosted by Cecily and MamaGeek