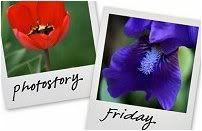 Hosted by Cecily and MamaGeek
A couple weekends ago, Pat and I took the kids pumpkin pickin' for the very first time. Strangely enough, I don't recall ever going as a kid. (Am I the only one?) I remember picking out the biggest pumpkins we could at the grocery store. All these years, I never knew I was missing out the hayrides, the search for that perfect pumpkin, pulling with all your might until it pops off the vine, and then seeing how many Daddy can manage to carry out to the car. haha :) The kids were too cute out there in the pumpkin patch. I just had to share the pics!
Noah stayed in one place just long enough for me to snap this
attempt
at a posed pic with Abby. He was all over the place! Even with all those pumpkins surrounding him, he was more interested in throwing rocks in a puddle he found next to one of the irrigation lines. Silly kid...just gotta love it.