It's two-for-one special today & tomorrow, my friends. Click the links to join the blog carnival fun!
Hosted by
Kristen @ We Are That Family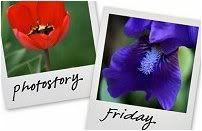 Hosted by Cecily and MamaGeek
I was so excited after
my very first "Fro"
last week & getting a record-breaking 25 comments (YIPEE!!!) that I've been racking my brain trying to figure out which slightly
more
embarrassing pics to post this week.
Which pictures truly did not make it into the scrapbook? Or better yet...the wedding scrapbook?
These are Pop-Up Video Style, candid cake-cutting pics that my best friend (and maid of honor), Diana, snapped and mailed to me....taken 12 years ago this past June. (No emailing digital pics back then, folks.)
It started out sweet and innocent...
Yes, I smashed a little cake in my new hubby's face...just to be silly
Then it was his turn...I tried to dodge him and it went right up my nose!
You're going down, buddy!
It was a full-out cake fight! How dignified...
That's exactly what our parents were thinking...haha!
My make-up, my lipstick...pretty much gone, but I was still smiling. It really was hilarious, although I did have icing boogers for a week. (Sorry...too much info.)
Ahhhhh...to be young and in love.