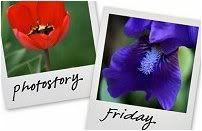 Hosted by Cecily and MamaGeek
The kids and I had just gotten home from running a few errands and were walking across our deck to the back door, when Noah noticed a forgotten plastic blue cup sitting on the deck.
"Mama! Mama! Look! Look!"
I was completely surprised at what I saw. I had to grab my camera...
As much as she wanted to keep it, Abby let the butterfly go.
They both kept calling after it, "Bye, Butterfly! Bye!"