One of the things I LOVE about our house is that we are surrounded by trees. We've lived in this house for three and half years, and every fall I mean to take pictures of the autumn leaves before they fall off the trees and blanket our yard, but I always miss it....until now! I took this picture last week and within two days, the leaves were already falling. I caught them just in the nick of time.
Whew
...especially since this may be our last fall in this house.
Abby has been especially excited for the leaves to turn and start to fall. She's been asking for the last two months, "Is it fall yet?...I can't wait to jump in the leaves!"
Huge piles of leaves are never lacking around here...once we start to rake them up, that is. :)
Click here for more PSF!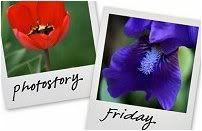 Hosted by Cecily and

MamaGeek