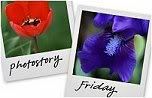 Hosted by Cecily and Chris
On Abby's first birthday, Daddy presented her with her very first set of plastic golf clubs. And, of course, when Noah turned one, Daddy got him a set too. Even when the kids were in still in utero, Pat talked about one day being able to take them out on the course. He started scouting out Daddy-and-me golf lessons when Abby was barely two years old, only to find that the starting age at the limited places that do offer them is four or five. In the meantime, mini golf, hitting balls in the backyard, and
Noah's golf course mural (courtesy of "Papa")
have had to suffice...
But not anymore!!!
Hitting balls at the range with Dad. Noah's got a pretty mean swing for three-year-old.
Noah loves to loves to put the tees in the ground and set up his ball. The first time they went to the range, he showed Daddy his swing and told him, "Dad, I'm learning you how to play golf!"
Looks more like Abby's holding a hockey stick...This set is actually too big for her, but she still manages to hit the ball pretty far!
Noah is putting with a 6 iron. :) Later that morning, we broke down and got him a real kid-sized putter. I told him he'd have to trade his putter for his pacifier (which he was still using at bedtime). Worked like a charm! (I wish I'd thought of that little incentive before.)
Next thing you know, they'll be out on the golf course together, and I'll be driving the cart. (That's my favorite part.) We're hoping to get involved with
The First Tee
chapter here in our area too. Who knows? One labor day weekend, a few years from now, we might be at
The First Tee Open at Pebble Beach
. Now that would be a golfing dad's dream come true!