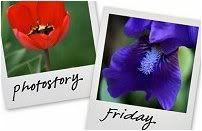 Hosted by Cecily and

Kelli
To play PhotoStory Friday, check this. Copy this code into your post and sign Sir Linky:
I'm so excited to be co-hosting PSF this week with
Cecily
. She's a total rockstar with the camera and the
Fishful Thinking
mama who introduced me to this awesome campaign that helps inspire OPTIMISM in our kids. Since I knew I'd be co-hosting this week, I thought it would be a perfect time for our family to do the
Favorite Photo activity found on the Fishful Thinking site
.
In a nutshell:
Find a photograph that captures a happy experience and describe it.
Here are our picks!
Abby's favorite:
I like that it's my first day of school and Noah is in the picture too. I was super excited!
Mommy's favorite:
Summertime and going down the BIG slide with Abby = BIG SMILES!
Noah's favorite:
I leally, leally, leally, like it! I fishing wid Papa and holding a fish!
Daddy's favorite:
Me and my boy playing golf 'cause that's what we love to do.
So click the fish, check out the site, and dive on in!
*Join me for Fishful Thinking Thursdays and share your thoughts and ideas to help our kids dream BIG, overcome obstacles, and look on the bright side of life!