It's that time again for a little
Fishful Thinking
!
Last night we went on a
Nature Sense Walk
in our neighborhood and I asked the kids to listen for all the different sounds they heard. An airplane flying overhead, crickets chirping, dogs barking (there are A LOT of dogs in our neighborhood), and leaves crunching under our feet (I still can't believe it's already October). We also started on our
Happiness/Gratitude journal that I mentioned last week
.
This week I'm excited to spotlight another awesome feature on the
Fishful Thinking
website, in addition the activities and articles...
You can make your own online custom
storybooks
by uploading pictures from your computer and describing a
Fishful Thinkin

g
moment your child or family has experienced and share them with family and friends.
FREE!!!
(That's just another reason why I love

Fishful Thinking

so much. The program isn't trying to sell a thing. It's goal is only to provide positive parenting resources. The only product information listed on the site is the nutritional info for Goldfish crackers. That's it!)
So, without further adieu,
here's the link to my very first storyboo
k illustrating how
resilient
kids can be -

(A few tips if this is your first time making a storybook, make sure you resize your pics to less than 2MB. It also takes about 10 seconds for the pictures to upload and there were a couple times that I had to add my picture twice, but it could just be my computer. This thing is a little slow sometimes. Other than that, it was fairly easy to do. Have fun!)
***Have you done any Fishful Thinking this week? I'd love to hear all about it!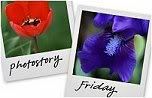 Hosted by Cecily and Linds