The butterfly garden at our nearby botanical gardens is officially CLOSED from now until spring. Total bummer. Since moving here this past June, the kids and I went to the gardens almost every week and always paid the butterflies a lengthy visit.
Even on those days when I was missing my family so much that it hurt, seeing those vibrant butterflies flitting around and the smiles on my kiddos' faces,
especially if one landed on them
, somehow made me feel at home.
Now that fall is in full swing, the Scarecrow Trail has become the garden's main attraction, but somehow...
...it's just
not
quite
the same.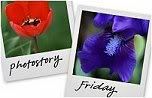 Hosted by Cecily and Carissa